Santiago Giachello & Belèn Giachello
Video Info
Additional Info
Performers
Event Info
Music
Pascual Contursi Y Enrique Maroni
Youtube Info
FUN !!! Maria Belen y Santiago Giachello dance La Cumparsita 😂😂😂
Maria Belen y Santiago Giachello dance La Cumparsita , TangOsud 2019, Montpelier - Fabrègues
Comments
Lyrics
La cumparsa
De miserias sin fin
Desfila
En torno de aquel ser
Enfermo
Que pronto ha de morir
De pena.
Por eso es que en su lecho
Solloza acongojado
Recordando el pasado
Que lo hace padecer...

Abandonó a su viejita
Que quedó desamparada,
Y loco de pasión
Ciego de amor
Corrió tras de su amada,
Que era linda, era hechicera
De lujuria era una flor,
Que burló su querer
Hasta que se cansó
Y por otro lo dejó...

Largo tiempo después
Cayó al hogar materno,
Para poder curar su enfermo
Y herido corazón...
Y supo
Que su viejita santa,
La que él había dejado
El invierno pasado
De frío se murió...

Hoy ya solo, abandonado
A lo triste de su suerte,
Ansioso espera a la muerte
Que bien pronto ha de llegar,
Y entre la triste frialdad
Que lenta invade el corazón,
Sintió la cruda sensación
De su maldad...

Entre sombras
Se le oye respirar
Sufriente,
Al que antes de morir
Sonríe
Porque una dulce paz
Le llega...
Sintió que desde el cielo
Su madrecita buena,
Mitigando sus penas
Sus culpas perdonó...!
The cumparsa
Of endless miseries
Parades
Around that being
Sick
Who will soon die
Of sorrow.
That's why in his bed
He sobs in sorrow
Remembering the past
That makes him suffer...

He abandoned his old lady
Who was left forsaken,
And mad with passion
Blind with love
He ran after his beloved,
Who was pretty, she was a sorceress
Of lust she was a flower,
That mocked his love
Till he grew weary
And for another she left him...

Long after
He fell to his mother's home,
In order to heal her sick
And wounded heart...
And he knew
That his holy old lady,
The one he had left
Last winter
From the cold she died...

Now alone, abandoned
To the sadness of his fate,
Anxiously awaits death
Which is soon to come,
And amidst the sad coldness
That slowly invades his heart,
He felt the raw sensation
Of his evil...

In the shadows
You can hear him breathing
Suffering,
Who before dying
Smiles
Because a sweet peace
Comes to him...
He felt that from heaven
His good little mother
Mitigating his sorrows
His faults she forgave...!
Videos from this Performance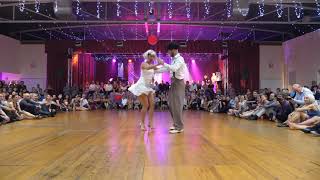 Santiago Giachello & Belèn Giachello